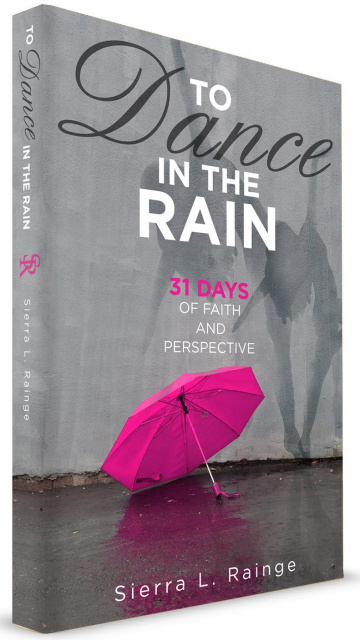 To Dance In The Rain
It is the rain that brings forth growth. It nourishes us and allows us to blossom in a new light. We dance in the rain because our faith allows us to celebrate the very things that we were first afraid of… we dance in the rain because we know that after the rain ceases, the sun will surely shine and new beautiful things begin to bloom.
Sierra L. Rainge: Founder of Limitless Living LLC; a company designed to empower at risk youth and individuals to reach their fullest potential by discovering their gifts and developing their talents. Through life coaching, motivational speaking and inspirational writing Limitless Living prescribes to the notion of infinite possibilities through the discovery of the power of our potential.
What is on Your Umbrella? Choose from 31 days of faith and perspective.
To Dance In The Rain is a 31 day devotional designed to encourage and empower its reader; It challenges anyone a midst any type of storm in their lives to overcome life obstacles through the power of faith.
As we struggle through life's many changes; we are able to experience hope because faith is our light in dark places, it shines through and breaks the shade of hardship. It is through our faith that we are able to overcome. It is our faith that allows us to view our situations from a different perspective. A faith filled perspective, one that views each obstacle as an opportunity for growth and enlightenment. Each devotion challenges us to begin to value the rain because we learned that the rain in our lives is to be embraced.